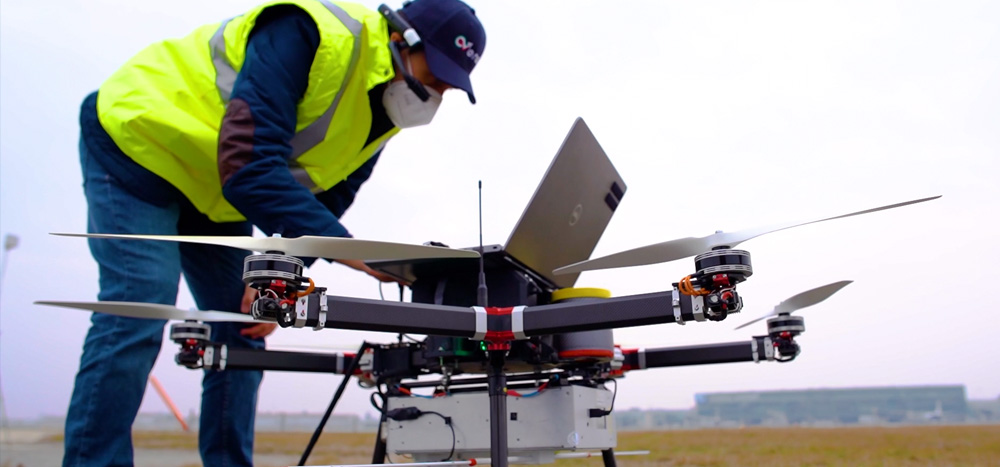 ENAV GROUP has embarked on a path having as its objective the use of RPAS for advanced maintenance activities at remote sites and airports managed by ENAV and in particular for the inspection of CAT III ILS systems but looking forward to other missions of inspection.
The ENAV drone allows to improve the ILS inspection operations by dramatically reducing the manned aircraft flight check frequency and thus decreasing the overall operational costs for airport operators.
Among the numerous advantages brought by these ILS flight inspections performed by the CNS drone are:
Extension of ILS ground measurements

Excellent repeatability

Cost & time saving

Reducing operational disturbances

Reducing CO2 and noise emissions
This major step in ILS maintenance domain for preventive and corrective maintenance is only a beginning. Thanks to this new Drone ENAV is developing the next generation ATM systems. In addition to ILS flight checks, paramount support services are enabled  for other systems like VOR, DF, PAPI, RADAR.
Our solution for calibration of CNS systems with the use of UAVs for advanced maintenance activities at remote sites and airports managed by ENAV. Specifically for the inspection of ILS (CAT I, II,III) systems and for calibration of PAPI systems by optimizing flight inspection aircraft activities.
ILS INSPECTION
Our solution is conceived for ILS Inspection provides real-time measurements that allow better ground checks and reduced flight inspection time.
ICAO Certified and Quality Proven Equipment
The ENAV drone uses certified equipment and Sensor to collect  signal information
QUICK
ILS measurements in a short time, minimising runway downtime and reducing indirect costs.
AUTOMATIC
The drone flies 100% automatically and the pilot just monitors and analyzes  data in real time.
FLEXIBLE
Day&night operations allow easier scheduling, and with portability, it can serve remote locations.
SAFE & ECO
It removes the need of hazardous flight inspection manoeuvres. No noise or pollution.
Services & products
For further information about this product
Fill in the following form