The knowledge and skills of people represent for us one of the key factors in maintaining the highest levels of excellence in ensuring safety, operational capacity, economic efficiency and environmental impact
For this reason, it is imperative to attract talented people and provide them continuous training and professional growth.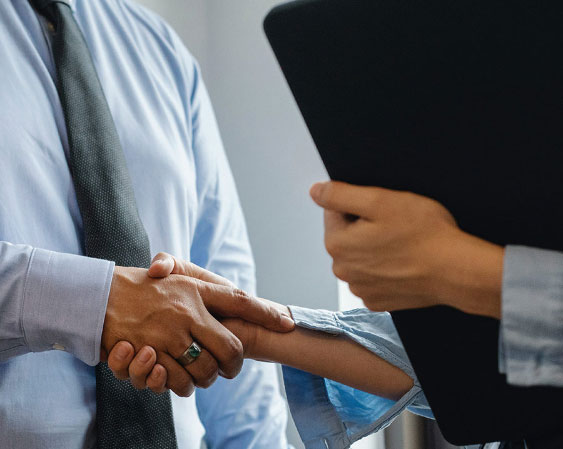 Hiring
We strongly believe in the value of our people: the induction of new personnel and employee training are the main tools to ensure competence, professionalism and the right approach to change.
The selection process is based on transparency and equal opportunity, which enable us to select new staff without discrimination while valorising the qualities of each candidate.
The recruitment and hiring process also includes partnerships with business schools, universities and aeronautical institutes. We are active participants in career days in order to publicise the "ENAV" brand and attract new talent.
Other initiatives aimed at supporting the employee attraction strategy include: 
forging relationships with employment centres;

collaboration with disability specialist employment agencies.
DEVELOPMENT
The training, development and growth of our people represent the pillars of our corporate culture and our way of operating. We want to ensure the durability and updating of the skills needed to deliver the highest levels of service quality.
Support for personal growth in career development and changes in the organization's business is a fundamental element of our training processes.
The training we provide is divided into two parts:
linguistic

,

mandatory, managerial-specialist

,

environmental

,

occupational health and safety

and

anti-corruption training

: these represent an added value for all ENAV people to support their professional growth and accompany them through the transformations of our business;

operational training

with the related support services offered by the Training Centre are the result of over 20 years of experience in training operational personnel, an experience that has taught us to respond to increasingly challenging demands and to constantly improve ourselves, enabling us to even provide training to third parties.
Hiring and staff development
In house operational training provided by ENAV Group
In house operational training provided by ENAV Staff
Number of hours of classroom and e-learning training of the ENAV Group
Training hours
u.m.
2022
2021
2020
Total
Total
Total
Total
Hours
185,235
158,255
138,508
Number of hours of classroom and e-learning training on specialistic managerial, legal, anti-corruption, language, health and occupation health and safety issues and environmental issues of the ENAV Group
Training hours
u.m.
2022
2021
2020
Total
Total
Total
Total
Hours
58,957
43,897
38,323
Number of hours of classroom and e-learning training in operational issues of the ENAV Group
Training hours
u.m.
2022
2021
2020
Total
Total
Total
Total
Hours
126,277.5
114,358
100,185