21 March 2023
ENAV & d-flight @ Drone Week Amsterdam 2023
ENAV Group and d- flight participated in the fifth edition of Amsterdam Drone Week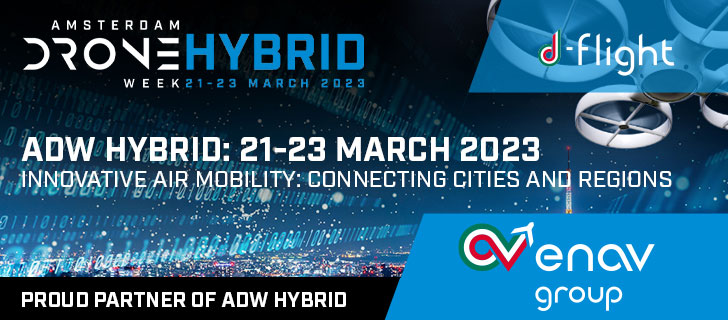 ENAV Group and d- flight   participated  in the fifth edition of Amsterdam Drone Week from 21 to 23 March 2023 at the RAI exhibition complex in Amsterdam.
Amsterdam Drone Week (ADW) is the annual international exhibition dedicated to Unmanned Aircraft Systems (UAS), which focuses the attention of the most important government Organizations and industrial companies in the sector.
ENAV Group and d- flight, attended as platinum sponsors of the international exhibition through numerous initiatives, including two live interventions within internal panels during the first two days: a speech entitled "Building Autonomous Drone Networks" - a secure and protected new generation of air vehicles in the context of international digital infrastructures, and the panel "Lessons learned from eVTOL/IAM demonstrations in European airspace" - regarding demonstrations carried out by some Member States to allow IAM (Innovative Air Mobility) operations in their national airspace.
At the ENAV Group exhibiting space, a specially equipped drone was displayed. The Unmanned aircraft for the first time in Italy, has recently transported untested blood samples (dangerous goods) in BVLOS (Beyond Visual Line Of Sight) mode, flight verified by EASA.
During ADW the innovations of the sector and the evolution of international regulations linked to the future of the unmanned world were illustrated. The event program has also deal with issues related to urban air mobility and digital infrastructures which are necessary for U Space / UTM construction in Italy, a project which sees d-flight as a key player through the provision of drone services on its own platform.
Among more than 80 worldwide speakers, 300 registered delegates and representatives of the main international companies and Organizations who took part in the event, we include EASA, PANSA, Boeing, Airbus, City of Amsterdam and the Czech Republic Embassy.