21 September 2022
Pact for the decarbonization of aviation. First annual congress
CEO Paolo Simioni: within this year we will be a carbon neutral company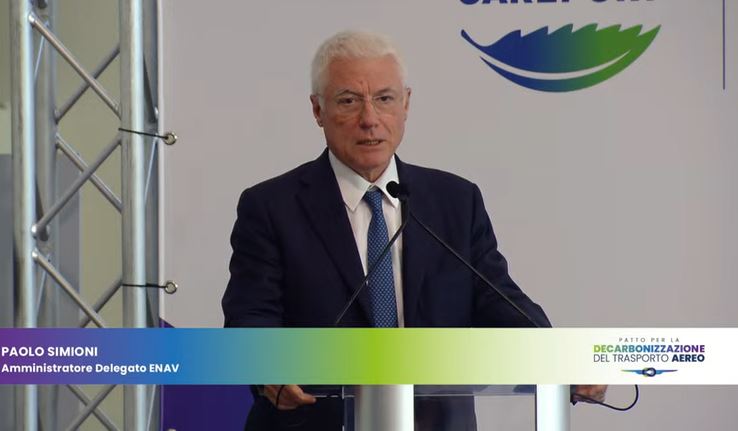 Rome, 21 September 2022 – ENAV is a sustainability-centric Group, attentive to innovation and digital transformation, concepts and keywords that guide our industrial policy. We will also be a carbon neutral company this year.
This is what CEO Paolo Simioni said at the first annual congress on the Pact for the decarbonization of air transport, organized by Aeroporti di Roma in collaboration with the Politecnico di Milano and with the patronage of the Ministry of Sustainable Infrastructure and Mobility, the Ministry of Ecological Transition and ENAC.
During the meeting – which was attended, among others, by the Minister of sustainable infrastructures and mobility Enrico Giovannini – the main players of the national air sector, institutions and the university world discussed the development and adoption of new technologies and infrastructures to achieve the definitive decarbonization of air transport.
Italy has been able to face the pandemic and then restart and hook the recovery better than the rest of Europe - said Simioni - but we must be able to combine more and more respect for the environment with the operational aspects of our business realities.
Simioni also focused on the Group's "Future Sky 2031" Business Plan, which will make ENAV a sustainable ecosystem capable of providing services and efficient development of air transport.
With ENAV's new operating model, also focused on remote control towers - continues the CEO - we will continue to invest in technological innovation and digitalization in order to ensure benefits to airlines and territories, which will be able to take advantage – as in the case of smaller airports – of a 24-hour service.
New platforms and airspace management systems will ensure increasingly efficient flight paths. Already today our Free Route procedure - which allows aircraft to follow direct routes between the points of entry / exit from our airspace - has guaranteed savings in the last 4 years of over 600 million kg of CO2.
Paolo Simioni recalled that ENAV's strategy for reducing CO2 emissions has been validated by the Science Based Target Initiative – a leading international certification body – which in December 2021 confirmed that ENAV's strategy on reducing emissions complies with the criteria and recommendations of the Green New Deal and the Paris Climate Agreement.
ENAV is the first service provider in the world and the only Italian company in air transport to have obtained this certification.